Welcome to Victory Garden Apiary, now located in beautiful Crisfield, MD.  Our number one goal is preservation of the honeybee colonies in our area and public education on honeybees.  We also occasionally sell honeybee colonies, honey, beeswax and bee products to support our cause.  Future plans include guided apiary tours and possibly a small honey tasting area.  If you're interested in checking us out, please contact us for information!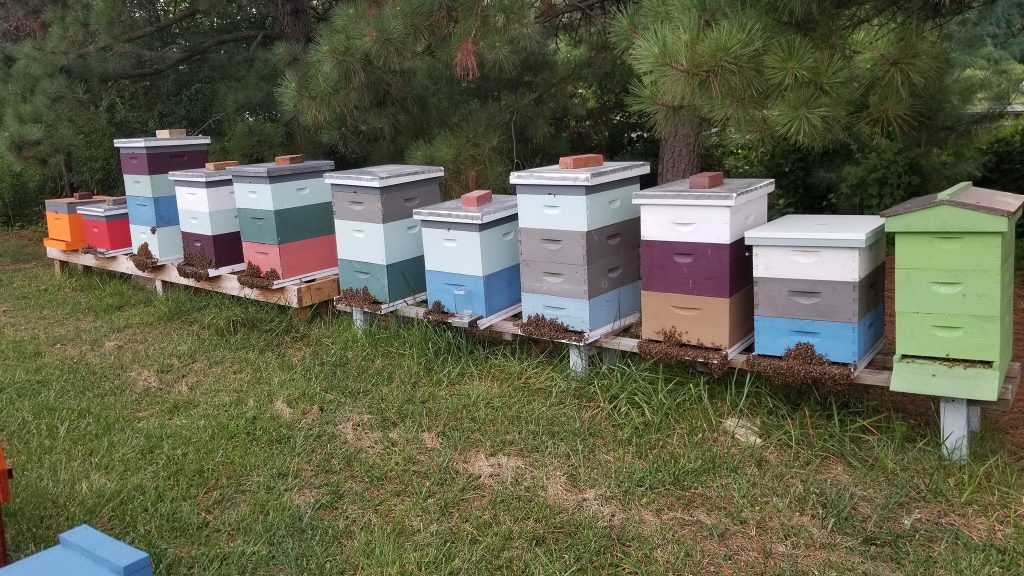 Announcement:
Due to time and health constraints, we are no longer performing structural removals (also called cut-outs) beginning in 2023. We are certainly able to offer advice and expertise, but we cannot perform these types of complex hive relocations going forward. We will still offer swarm removal services. The information on the "Bees In Structures Or Trees" section of this website is still relevant, no matter who performs your removal.
From Facebook
I built this solitary bee house to use as an example of proper nesting materials for native bees. The students at Y.E.A.S. used it as part of their presentation. If you're using a solid block of wood with holes drilled in it, your heart is in the right place, but it's less than ideal.
The bee house now lives on this post near one of my apiaries. New beekeepers need to be aware that when they introduce their honeybee hives to a new location, they're also introducing competition for forage with the bees that already live there. Providing habitat and adopting other native bee friendly habits will help keep everyone healthy and happy.
.
.
.
#saveTheBees #beekeeping #bee #beefarm #beekeeper #beesofinstagram #bees #apiary #apiculture #Delmarva #delmarvalous
...

See More

See Less